For almost two decades, the Peg Egan Performing Arts Center has been providing free concerts to visitors and residents of Door County. Music curator and fundraiser extraordinaire, Terry Lundahl has created yet another ingenious way to support the organization while boosting Door County's visual artists.
On Sunday, September 4, there will be an Art Raffle fundraiser coupled with performances by five bands consisting of Door County's talented musicians: The Door County All Stars! From Us to You! featuring Paul Taylor & John Rood Lewis, Cathy Grier & The Troublemakers, Pete Thelen, Dorothy Scott & The Peace Keepers, Big Mouth and the Power Tool Horns.
The Art Raffle with Door County Artists… Lynn Gilchrist, Kerry Vavra, Audrey Off, Deb Stroh-Larson, Marcia Nickols, Terry Lundahl, Liz Heller, Nancy Sargent, Phil Biebl, Keli Groenfeldt, Joe Schulte, Andrea Jauquet, Rick Brawner, and Penny Niesen. Raffle tickets are 5 for $20. The fun begins at 6 PM. Artists' works will be set up around the perimeter of the venue. There will be plenty of opportunity to meet the artists and learn about their creative process. At the end of the concert, guests will find out if they won the art piece of their choice, and be able to take it home.
Alisa Landman has donated one of her works to the Peg Egan Performing Arts Center raffle.
Here's a sneak peek of the painting. Get there early to speak with Alisa and learn about the types of artwork that she creates. "Earth Born Beauty" is a 12″ x 36″ acrylic painting on canvas.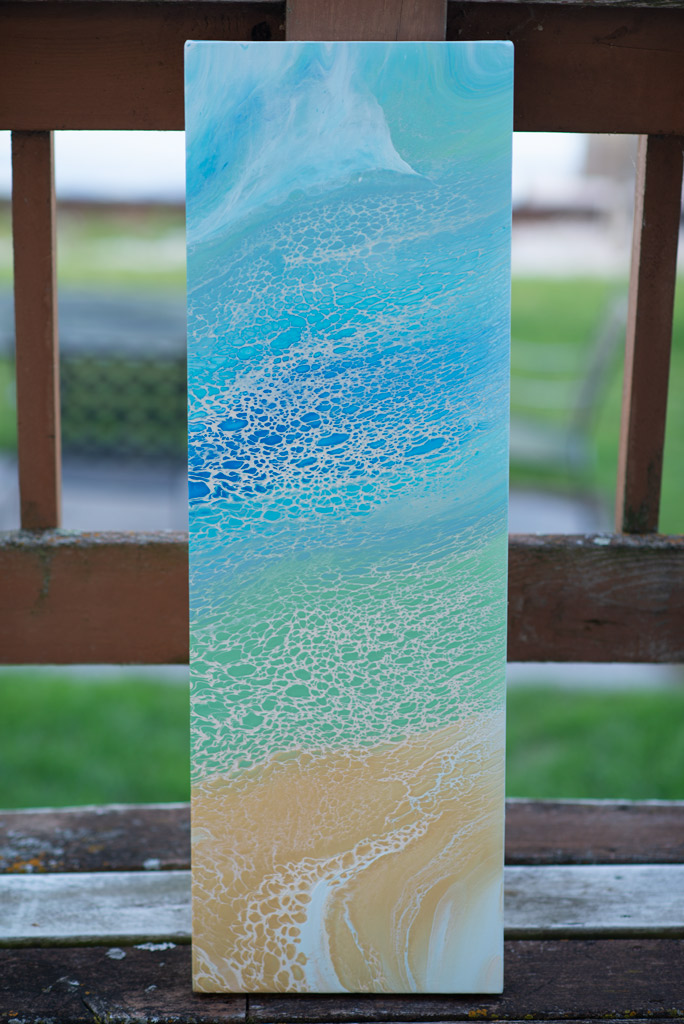 Alisa's Special Offer to Further Benefit Peg Egan PAC
On September 4, 2022 from 6 to 9 PM only, 10% of art purchased from the Alisa Landman Art store will be donated to the Peg Egan PAC. Tax, Shipping & Handling, are not included. Otherwise, purchases can be made from Alisa Landman Art on the website or in-person at her home studio-gallery, Alisa also has some of her paintings available at The Pearl of Door County, Art Gallery in Sturgeon Bay.
Join us at the Peg Egan Performing Arts Center for the 2022 Sunset Concert Series.
The September 4 concert is free and begins at 6 pm at the Egg Harbor Amphitheater located at, 7840 Church Street, Egg Harbor. All shows are subject to change. Bring your own Lawn chairs and carry-ins are welcome.
Other Artists entering works in the Raffle:
Joe Schulte,
Andrea Jauquet,
Penny Niesen