Peg Egan Performing Arts Center — Door County visual artists are donating their works for a sale to support the next season of the Sunset Concert Series.
Come for an evening filled with talented musicians while perusing the artist donations to the Peg Egan Art Raffle. Sunday's Concert in Egg Harbor on July 23 at 6:30 PM, featuring Door County All Stars!, will also provide a chance to win a painting from some of Door County's finest artists. Audience members can browse artwork and talk to the artists before the concert and during intermission. Winners will be announced at the end of the concert.
Peg Egan Performing Arts Center will feature the music of the Door County All Stars! with the best of folk, jazz, blues & alternative. There will be three Shows in one night: Jimmy Kaplan & Friends, Dorothy Scott & The Peace Keepers with special guest Hans Christian, and Big Mouth and the Power Tool Horns.
This quadriptych, titled, "Reflections on a Purple Moon," by Alisa Landman, features trees through a purple lens and is a part of the Art Raffle on July 23. Hang the four paintings anyway you want, or as a single piece. Acrylic on canvas. Four individual pieces are 14″ x 11″ each, or hung as one, 28″ x 22″. The art is designed to allow a versatile installation, or each canvas has a map for the order of hanging on the reverse side.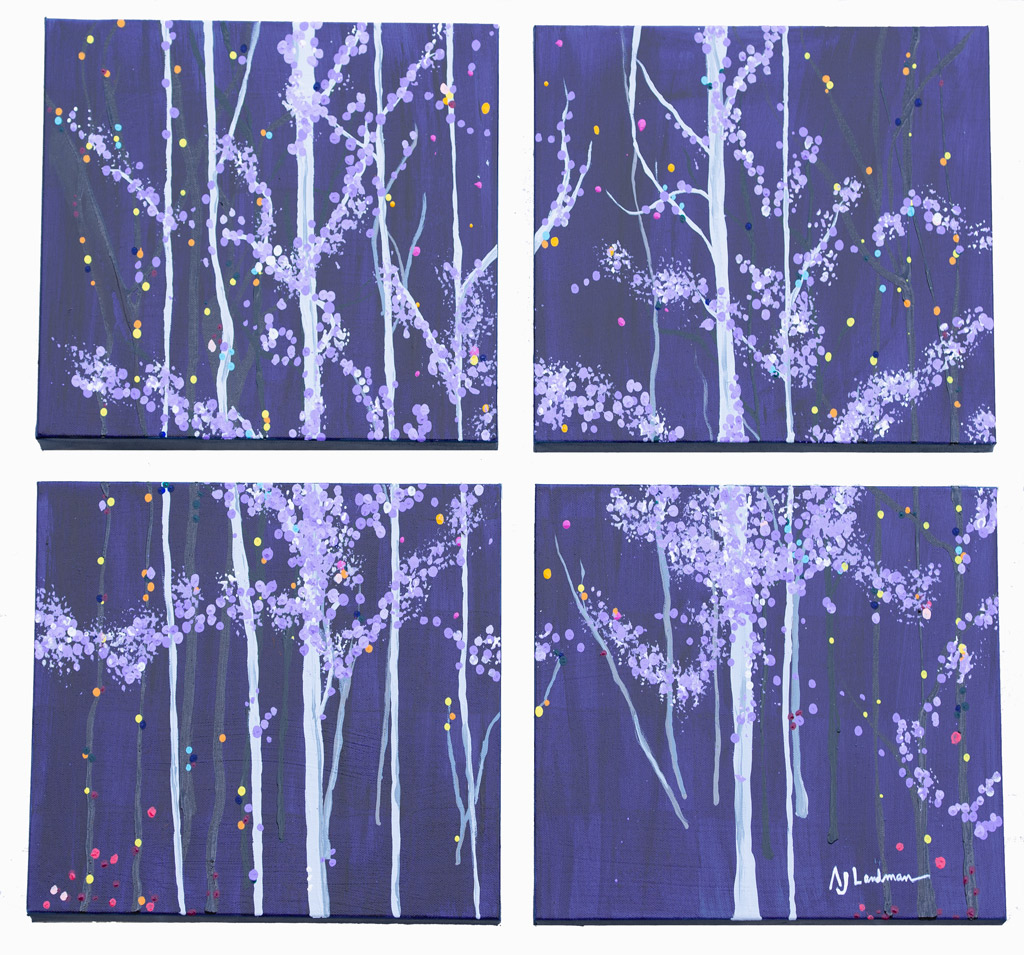 Artists donating their works for a sale to support the next season's artists participating include Lisa Baratta, Holly Cole, Ernest Beutel, Liz Heller, Alisa Landman, Megan Lundahl, Terry Lundahl, Marcia Nickols, Pat Olsen, Jeff Olson, Kandy Otto, Nancy Prange, Monica Ramirez, and Kerry Vavra. Viewing of the artists' work begins at 4:30.
A drawing will be held directly after the concert. Raffle art ticket proceeds will directly benefit the Peg Egan PAC and support upcoming acts for 2024. Audience members are invited to come early, starting at 4:30 p.m. to view the artwork and put a raffle ticket in for their favorite art while supporting this free concert event.